WE ARE YOUR EXCEL EXPERTS
Offering services for all aspects of Microsoft Excel.
We can help across all areas of spreadsheets from design and data management to complex formulas, macros and add-ins.
We have all your expert needs in Excel.  From creating popup forms for data entry, to entire applications that capture and report on data.
Custom Add Ins
Our Excel developers can create add-ins to manipulate data, send data to an email, recalculate and format spreadsheets.  Your spreadsheet, your custom buttons.
We can create single buttons, or entire toolbars for your business to use.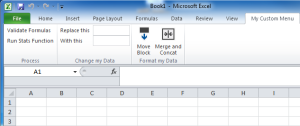 Excel Experts are just a phone call away
Templates need updating?
Upgrade all you spreadsheets, templates and macros to the latest version.  Office 2016 is out and its time to plan that upgrade you have been putting off…..
Microsoft Excel Spreadsheet Version
Having a spreadsheet specialist analyse and optimize the health of your MS Excel Spreadsheet can make a massive difference to both the speed of your system and the efficiency of your people!
Our proven approach means we can provide cost effective solutions and a great return on your investment.
We can also convert your older version of Excel to one of the versions to your right
Microsoft Excel 97
Microsoft Excel 2000
Microsoft Excel 2003
What are you waiting for?
Give us a call to gain the confidence in how we can help you.